Voices of the Past: Alberta School Broadcasts
The Provincial Archives of Alberta holds over 56,000 hours of audio recordings. Included in those recordings are Alberta School Broadcasts, which were heard in classrooms across the province, from the late 1930s until the late 1970s. Radio broadcasts were not intended to displace the classroom teacher or classroom activities, but to guide, stimulate, intensify and supplement classroom efforts, especially in under-privileged communities.[1]
Three Alberta School Broadcasts have been selected and digitized. Originally chosen to complement the exhibit Natures Past: Archival Evidence of Environmental and Climate Change, the topics in these Alberta School Broadcast recordings from years ago continue to be relevant today. However, unlike when they were originally heard in classrooms, these recordings have been supplemented with photographs and maps from the holdings of the Provincial Archives of Alberta to help tell their stories.
---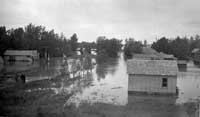 Science on Parade: "He Just Keeps Rolling Along"
GR1981.0022/25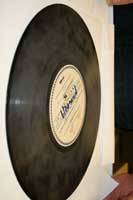 This is one of the earliest school broadcasts in the holdings of the Provincial Archives of Alberta. It is from 1946 and was developed by Provincial Radio Committee. This committee became the School Broadcasts Branch in 1947. This audio recording for this broadcast is originally from a transcriptions disc. Transcription discs are made from aluminum or glass with a nitrocellulose coating or laminate into which groves are cut one at a time. They look similar to 78s (shellac) and LPs (vinyl) but the grooves are much softer and they can not be cleaned in the same way. This type of recording was used from the late twenties through the sixties.
---
From Frontier to Farmland: "A Little Dirt Goes a Long Way"
GR1981.0022/46
This broadcast is from 1952. The Frontier to Farmland programs (part of the Landmarks of History series) were aired Wednesday mornings at 11:00 a.m. for grades 7 to 9. In 1951, it was estimated that over 50% of all elementary and junior high schools were making use of the school broadcasts.[2]
---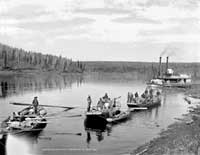 River Stories of the West: "Where are the reeds? The Athabasca"
GR1983.0288/73
This broadcast is from the late 1970s, from the last years the Alberta School Broadcasts were with the Department of Education. As reported in the 1979/80 Annual Report for the Department of Education, the Alberta School Broadcasts were transferred to the Alberta Educational Communications Corporation, more commonly known as ACCESS.
---
[1] Mary Lyseng, "History of Educational Radio in Alberta" (M. Ed. Thesis, University of Alberta, 1978), 70.
[2] Lyseng, "History of Educational Radio," 224, taken from the 1951 Annual Report.